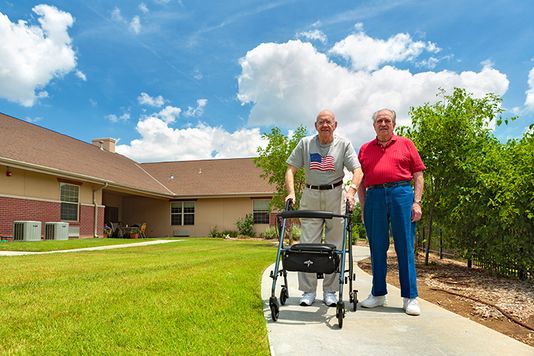 Courtyards
Our four enclosed, secure and absolutely gorgeous courtyards feature beautiful views. There is one courtyard for each of our four houses, each with a barbecue grill available for residents to use.
Rooms
Each room includes a beautifully tiled bathroom fully equipped with vanity sink, toilet and large private walk-in showers. Select rooms feature kitchenettes and each room has individual heating and cooling. Cable TV, telephone, and internet access are standard for all rooms. Nine-foot ceilings and large windows help make these rooms spacious and homey.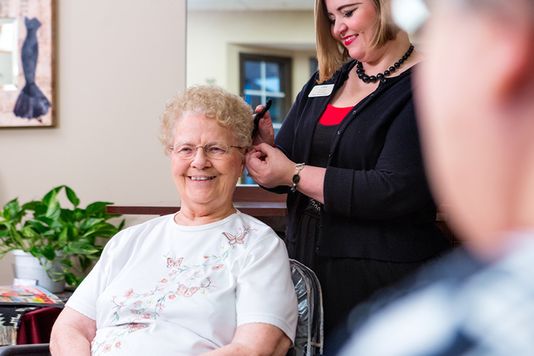 Salon
For the convenience of each resident there is a beauty salon with a licensed beautician offering styling services and salon amenities. Book and appointment with our beautician at your convenience.
Spa
Derby Health & Rehabilitation has a whirlpool spa room with private treatment rooms and individualized bathing schedules for each resident.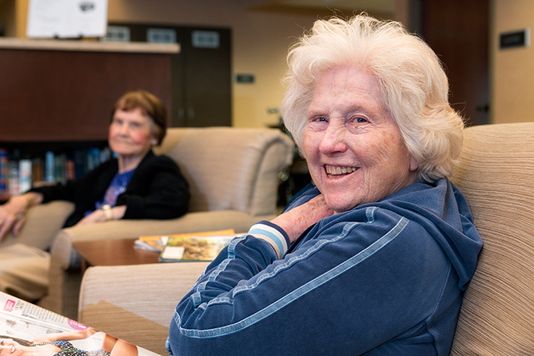 Living Area
Each house features cozy living rooms with gas fireplaces and big screen TVs for residents to enjoy with their family and friends. Play games, read books, or watch movies. Regularly scheduled entertainment, exercise classes, and other activities are held in these centrally located living areas.
Open Kitchen
Each kitchen has it's own culinary expert and food can be made to order any time of day or night. Regular meals are served family style and family and friends are encouraged to visit for meals.
Visiting Hours
We have none. This is your home away from home and as such family and friends are able to visit whenever they like.
Security/Private Access
Each house has individual access to allow guests to enter directly in to the house they are visiting. Cameras are placed throughout the facility to ensure every residents safety. All doors require keypad access and a Wander Guard system in in place to further protect residents.
Pet Visits
Have a beloved furry friend? Have someone bring them by for a visit. Pet visits are a fun time for everyone.
Quiet Room
A quiet room is available for family time, important meetings, or private conversations.
Transportation
Transportation is offered to scheduled doctor appointments, dialysis appointments and required procedures.