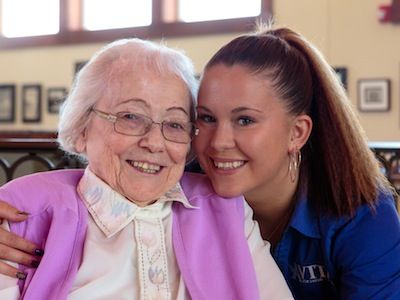 At Derby Health and Rehabilitation our philosophy on care is person centered.
You are in charge of your life and your care. If you want to sleep in late or stay up late your are welcome to. We will work with you and your family to create your schedule and your care plan.
We offer therapy services for a wide variety of orthopedic and musculoskeletal injuries and disorders, as well as for general rehabilitation needs. Our primary goal is to help patients return to their highest possible level of function and to the activities they enjoy.
Exercises
At Derby Health and Rehabilitation we are involved in the PEAK program, Providing Excellent Alternatives for Kansas nursing homes, improving the quality of life for those who live and work in the long term care setting.
Derby Health and Rehabilitation is staffed with twenty-four hour professional nursing care. We staff LPNs, CMAs and CNAs. The nursing staff, under the direction of a physician Medical Director, provides a wide variety of care to residents needing skilled nursing assistance.
Under the supervision of a registered nurse and a physician, residents receive skilled therapy and skilled nursing services that contribute to their recovery. The Derby Health and Rehabilitation team of doctors, nurses, therapists and social workers tailor individual programs to meet each patient's personal and medical needs. Family conferences are held to expedite recovery and aid the transition to home. Some of the services include the following:
- Physical Therapy
- Occupational Therapy
- Speech Therapy
- Attention to reducing re-admissions
- Extended admission hours
- Continued communication with physicians and families
- Social Services to support post-discharge needs
- Employees dedicated to exceeding recovery goals
Whether recovering from a surgery, injury, or anything else our certified and professional staff are here to help you on your journey back to full health and functionality. We will work with you step by step to get you back to your life as quickly as possible.